Here are 10 thoughts after watching the Week 2 games from Sunday.
1– Injuries are a part of the game. But when a load of injuries happen on the same day to multiple players, especially some big stars, then it's concerning. And people wanted 18 games?
Robert Griffin III's injury was hard to watch. He hasn't been the same since his injury in the playoffs and this dislocated ankle could keep him out for the entire year. Add on to Knowshon Moreno's elbow injury (a couple months out) and it already was looking bad. DeSean Jackson has a shoulder injury. Gerald McCoy broke his hand. Doug Martin's knee is giving him problems. Vernon Davis hurt his ankle. In the same game, Charles Tillman hurt his arm. Ryan Mathews hurt his knee. Jamaal Charles and Eric Berry both got hurt. A.J. Green also suffered an injury.
What a horrible week for injuries. I hope this isn't a trend for the upcoming weeks.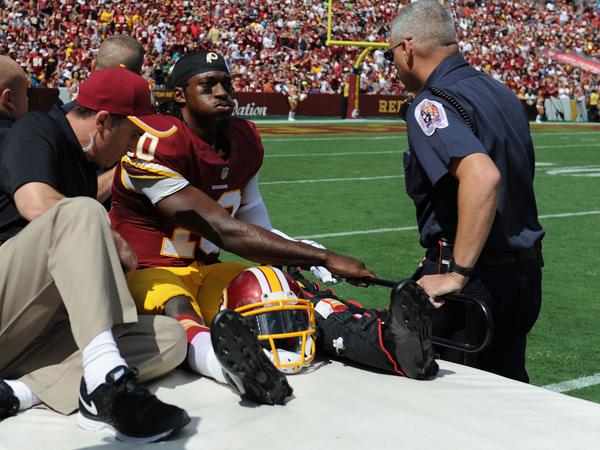 2– The Bills are 2-0. And who led the charge this day for them? Rookie Sammy Watkins eclipsed 100 yards receiving and I am starting to believe in these Bills. I don't think they are world beaters, but their running game is solid and the emergence of this new passing attack would make them a dangerous team. There is something about this young talented team that I like. EJ Manuel is still a raw talent but has shown me that when healthy, he has the intelligence to lead this young team. I look forward to seeing what else this team can do.
3– You all better get Kirk Cousins on your fantasy team. I have liked him since his days at Michigan State and when the Redskins drafted him in the same year they took RG III, some people questioned it. Now they look like geniuses for having a backup plan that could be better than their current plan. Cousins is a solid, reliable pocket passer and maybe this is what the offense needs. Now with Cousins clearly in charge, this offense could fly. The running game is looking good again with Alfred Morris and if both receivers can remain healthy, the passing attack is vital.
4– Are the Saints that bad or are the Browns that good? Think about it. They almost came back and won last week against the Steelers. Here they steal a win away from the Saints. It almost came down to a missed extra point attempt earlier in the game as the deciding factor. But the Browns, led by Brian Hoyer, took the team down the field, took advantage of a defensive mistake by the Saints and won the game.
The Johnny Manziel sideshow has reached Tim Tebow levels. Like Tebow with the Jets, Manziel was in for one play and taken back out. Not a great use of talent right there. Either keep him on the bench or play him the whole way.
5– Cam Newton is back and the Panthers look good. I think that having Newton in the offense makes a world of difference for this team. And with the Lions struggling, it was a perfect opportunity for the Panthers to get their quarterback back into the groove of things.
One thing I want to note about this game was that the team's decision to deactivate Greg Hardy. Hardy is in the middle of an appeal for an assault from earlier this year. Smart move on the Panthers to take him out for this one.
6– Raiders looking terrible for two straight weeks. Not good.
J.J. Watt looking great for two straight weeks. Very good.
7– How to beat the Seahawks? The Chargers showed us. Antonio Gates had three touchdowns and the Chargers defense showed great signs against the Seahawks. What really impressed me about this win was that the Seahawks secondary can be beat. It just takes the right receivers to out-maneuver the Legion of Boom. I think if you can put up young receivers and a quarterback riding high on confidence in the offense, the Seahawks can be beat. The Chargers proved it today.
8– Why did I pick the Packers to win the Super Bowl? Aaron Rodgers. What a phenomenal comeback for the Pack. Jordy Nelson and Randall Cobb were on point. Eddie Lacy is still finding his way back but as long as Rodgers is able to play at this level, the Packers are looking strong.
Julius Peppers also was amazing. On the final drive by the Jets (in which they cost themselves a touchdown by accidental timeout), Peppers went one on one with Chris Johnson and won by knocking away a pass intended for the speed demon. That is a huge presence knowing that Peppers still has the great athleticism to hang with a passing play like that.
9– The Broncos offense is still good. I am not worried about it. The Chiefs showed signs of life without Jamaal Charles. Their only problem will always be Alex Smith. He's a reliable quarterback, but is that what this offense needs. The drives take long and there isn't any major explosion offensively. That likely cost the Chiefs a chance to tie this game and send it into overtime. Smith is good but is he good enough for this team? Let's hope that the offense gets better.
10– The 49ers should have won. But the three interceptions and the load of penalties gave the Bears second life. The 49ers are lucky that these errors can be corrected. For a new stadium's regular season debut, the team should have won. But here we are. The 49ers are hoping Vernon Davis is OK after his ankle was injured. He's very vital to this offense and losing him for a long time is not going to be good at all.
Very nice to have long-time Steelers fan Snoop Dogg perform at halftime.
===
What a crazy week. Injuries are a huge concern for me. This might be some freak incident where everyone got hurt this week. I hope that as the season continues on that these things happen less frequently. Hopefully, tomorrow goes without incident and the worst week in NFL history is officially over.