Here are 10 thoughts after watching the Week 9 games from Sunday.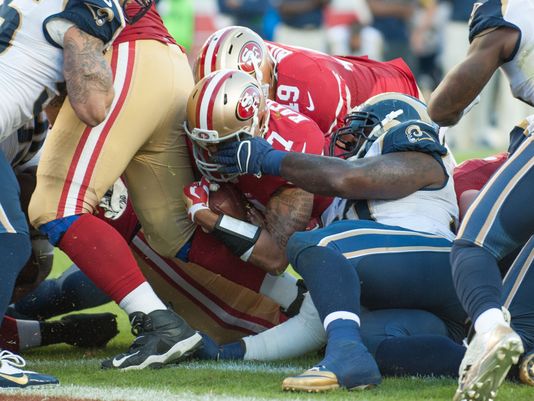 1– The ending to the 49ers-Rams game can be summed up in two words: bad playcalling. The problem with that final drive for the 49ers was their inability to stick with the running game. Of course, the entire offense looked terrible and it was their last drive that had a chance to redeem it. After getting the ball to the 1-yard line, on second down the team opted to run a roll out. With one timeout, the team could afford to run the ball and call the timeout if they were stopped. However, with the team so close, they ran a roll out instead of pounding the ball. Was this a sign of the coaches not believing in the struggling offensive line?
Of course, the quarterback sneak that followed was a whole mess. I think the ball crossed the goal line before it came out, but it's too hard to tell. It was just poorly executed and the offensive line did not get the push they needed. The 49ers are 4-4 and it appears the Cardinals are on their way to an easy division win. It's looking like maybe the 49ers have to go on a massive winning streak to possibly just make the playoffs.