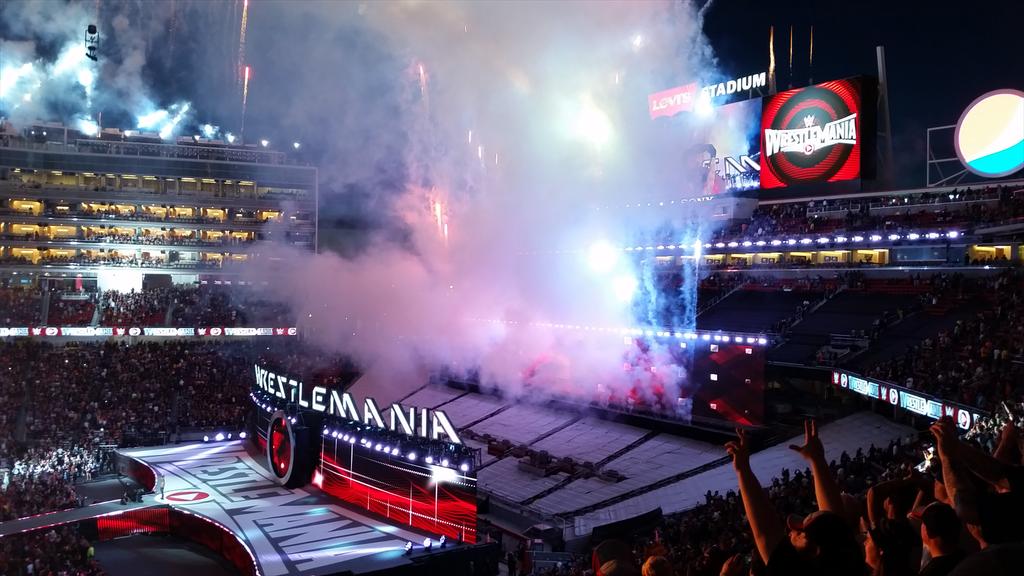 After attending last night's WrestleMania 31 at Levi's Stadium, I have five thoughts I want to share.
1 – It was super sunny. Because the start time of the first match was at 3:00 and being on the West Coast, most of the entire show was in broad daylight. I was in the sun for that entire time. I had my cap, sunglasses, sunscreen but it was still brutal. I can imagine it being the same for the wrestlers. Still, there is something cool about seeing the wrestlers in broad daylight. It was like some gladiator fight at the Colosseum. Visually, it was great. And as the show went on, it got darker and darker and finally for the last two matches, the sun had set. Great visuals.
2 – Entrances are what I always look forward to at WrestleMania. I very much enjoyed the Rusev entrance.
Undertaker had a good one. Bray Wyatt had a very cryptic one. Sting had a unique one. Triple H's looked very badass. These are the things that make WrestleMania so fun. It was a great visual art.
3 – The matches were good. My concern was that the matches would not be good and the storytelling would suffer. But that wasn't the case. The pre-show matches were entertaining. The ladder match was a great start to the show. That RKO Randy Orton delivered was amazing.
The crowd was really into it too. The chants were fun and people were really digging the DX vs. nWo feud that went on. We finally got to see something that we thought might never happen. This is what a good WrestleMania is all about.
4 – The Rock and Ronda Rousey. That was so fun to see. I am so happy that they gave those two that kind of platform to really elevate the exposure. Great transition to a potential storyline.
5 – The ending was best for business. In order to make Roman Reigns look like a legit competitor and Brock Lesnar look like the beast that he is, Seth Rollins sneaking in to win was the perfect way to end it. I predicted it but actually seeing it come to life was different. What a great finale to an amazing show. Big endings is what makes Mania and this was the perfect one.
Overall, it was an amazing show. I loved it and RAW tonight is going to be even better.