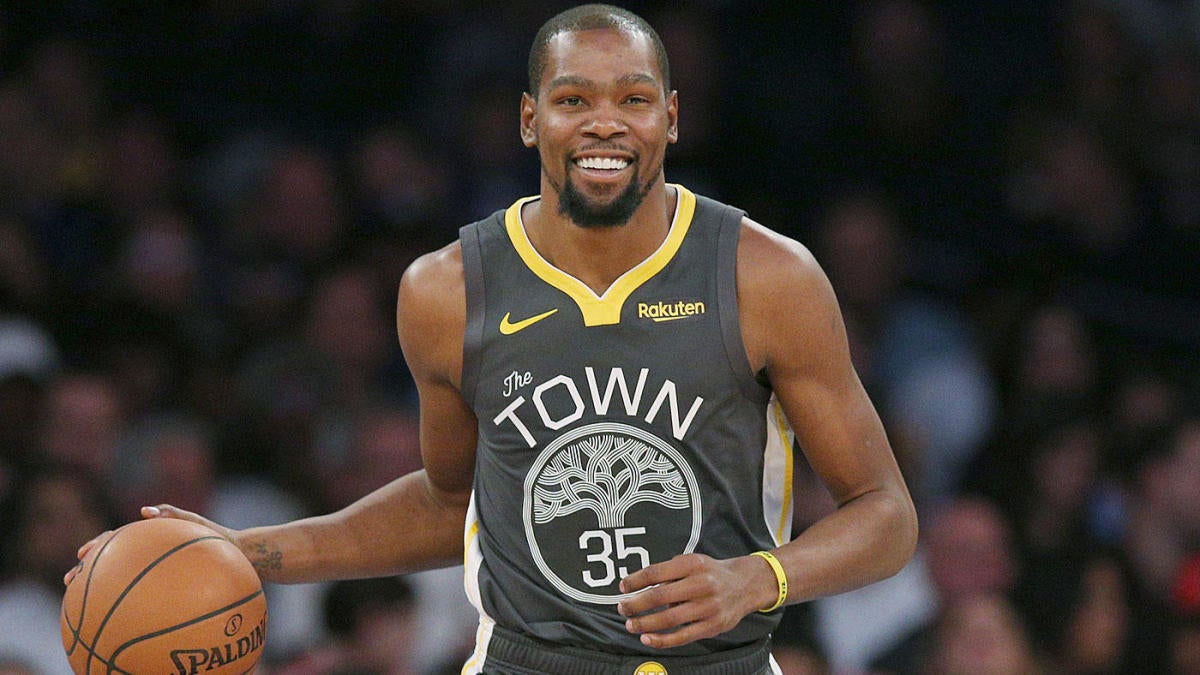 Less than 24 hours after NBA free agency officially opened, Warriors CEO Joe Lacob made a surprising announcement.
"Three years ago, we were thrilled with the arrival of Kevin Durant, a transformative NBA player and one of the best to ever play the game. He provided our fans and franchise with numerous highlights during his stay here—two NBA championships, two NBA Finals MVPs, three trips to the Finals, unparalleled efficiency—and carried himself with class and dignity both on and off the court. His commitment to our community was evident each day, including last season when his philanthropic efforts earned him the NBA's annual Community Assist Award. Today, as he starts a new chapter in his incredible career, we thank KD for all of his contributions, for being an integral part to one of the most prolific runs in NBA history and wish him well as he continues his Hall of Fame journey. As long as I am Co-Chairman of this team, no player will ever wear #35 for the Warriors again."
Interesting. Odd.
So let's get some facts out of the way first. Kevin Durant reportedly agreed to a sign-and-trade that would send him to the Nets. The Warriors would get D'Angelo Russell as part of the deal. At the time of this Warriors press release, that trade had not been announced officially by the team.
It's a very odd suggestion in a sense to retire someone's jersey while he is still with the team. Or even if we don't look at it that way and that he is technically a free agent who didn't want to come back, it is very odd to retire someone's jersey while the player is still an active NBA player. These jersey retirements are usually done when the player's career is over.
These things are uncommon but it isn't too weird for NBA standards. The Heat have retired No. 23 for Michael Jordan. As you all know, Jordan never played for the Heat.
Nate Thurmond spent the last two years of his career with the Cavaliers averaging under 19 minutes and 5 points per game. He got his No. 42 jersey retired by the Cavs.
Also, Pete Maravich's No. 7 was retired by the Pelicans. He never played for that organization.
It's a silly idea to retire someone's number like this. It's even more bizarre for the Warriors to do it for an active player. Now, of course, this jersey number is taken out of circulation and isn't officially a retirement. But it essentially is a retirement as long as Joe Lacob is around. If Lacob is no longer in power, then maybe someone else can wear it.
But what about Andre Iguodala? He was part of the foundation of this dynasty before Durant showed up. He was traded away to the Grizzlies to facilitate this trade and there was no announcement of his No. 9 jersey taken out of circulation. That is strange. If the Warriors are going this route, then they have to do it for someone who was foundational to this dynasty before Durant showed up.
Perhaps it was done so the Warriors will do a nice PR move and make it seem like they are a classy organization where it was reported Durant was upset at how they rushed him back. Or maybe it is that Durant reportedly felt that the organization took him for granted. The team probably did this to massage his ego and make themselves feel better.
Then again, Iguodala had some choice words about the organization during a recent interview. And the Warriors didn't want to acknowledge him with a jersey retirement.
Either way, it's an odd choice to "retire" someone's jersey while they're still active. Yes, we all know Durant was huge in his time with the Warriors. But even after only three seasons and he still is an active player, a jersey retirement sounds odd.
It's a silly idea but we can all tell why they did it. They want to save face but through all this, they're just really trying to maintain a positive look during a challenging offseason. Perhaps when Durant retires from the NBA as an active player such a move would make sense. But now? It doesn't.
There's a time and place to evaluate jersey retirements. It's usually when the player is no longer active, not less than 24 hours after you trade away a player who didn't want to stay. But that's not how the Warriors do things. I guess this is one of those "lightyears" moves we don't understand yet.