Here are 10 thoughts after watching the Week 6 games from Sunday.
1– Ties are terrible. No game in any sport should ever end in a tie. But with the physicality of the NFL, we know that anything more than 15 minutes after regulation is too much. Thus we get a tie from the Bengals-Panthers game. It wasn't even a bad game and in reality, don't all these close games come down to the kicker?
But here's my concern. The Bengals looked like a team that was on the rise to the top of the power rankings. Before the season began, I didn't even think they'd make the playoffs. Yet now they have not won in back to back games. Cause for concern? I don't know. A.J. Green didn't play so that might mean something. But letting this win slip away is not a good sign for these Bengals.
But hey, at least we got some cold cuts!
2– The Browns are that good? I don't know just yet. But they are playing some exciting football and their dominant win over the Steelers show that this team may be for real. It's a huge cultural change in Cleveland. (Also, losing Alex Mack to what appears to be a season-ending leg injury is brutal. He had not missed a snap his entire career until today.)
On the other hand, the Steelers offense is in trouble. The receivers are dropping balls and it doesn't give the running backs and relief that the passing game isn't doing much.
3– I still can't figure out the Patriots. But what I saw today from them is a team that can still manage wins without all the mega star weapons for Tom Brady. On the other side of the ball, the Bills are a mess. I don't know how much stock I can put on their quarterback situation ever being resolved this year. Maybe EJ Manuel isn't the answer.
4– In one game, Aaron Rodgers just brought himself into the front of the pack of the MVP discussion. My Super Bowl pick can come true if this guy continues to play like this.
5– I left Joe Flacco on my bench on my fantasy team. I lost this week. I would have won if I played Flacco. Five touchdowns in the first half is pretty impressive. In fact, it was one quarter and one play he got those five touchdowns. The Buccaneers aren't great, but still, this is an impressive performance. Maybe the Ravens are good enough? Torrey Smith and Steve Smith are getting their touchdowns and Justin Forsett is carrying that running game. I am impressed.
6– The Jets are still terrible. The Broncos are still good. Consistency.
7– The Raiders showed potential this Sunday. Derek Carr seemed like a different quarterback. They hung with the Chargers. But the Chargers, led by Philip Rivers and a clutch punt return by Keenan Allen led them to the win. I still think Rivers is the favorite to win the MVP this year. This Chargers team continues to win and when they meet the Broncos, it's going to be glorious.
8– The Cardinals can win with any quarterback on their roster. Their starter Carson Palmer returned and the Cardinals look real dangerous. Despite the Redskins offense showing some signs of life in the aerial attack, the Cardinals for the most part know their offense can hang with any team out there. This is a dangerous team. With their starting quarterback healthy — and throwing passes to Larry Fitzgerald — they should not be ignored.
9– The Cowboys are probably the most talked about one-loss team that I think is overrated. I am still not convinced that this team is as good as their record indicates. Then I look at who they just beat: the Seahawks in Seattle. Maybe I am mistaken. Is this Cowboys team this good or is this just false hope?
10– The Eagles are probably the last talked about one-loss team that I think is still underrated. I can't figure this team out at all. They looked hapless in their only loss against the 49ers. Then against the Giants, everything seemed to work well for them. In all honesty, I think they may be the best team in the league right now. I think that they are clicking on all cylinders.
And because of Nike's inability to produce the right shade of green for the Eagles, the team wore black pants for the first time. This all-black look is terrible. Never wear it again, please. The balance of color is fine, but the green and the black blend too much and the socks should be green instead. Terrible.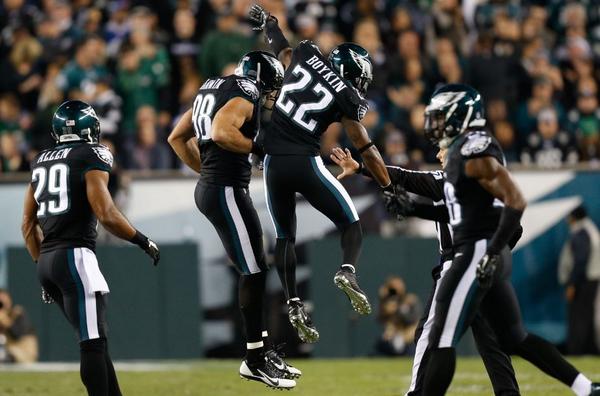 ===
My perfect season for fantasy comes to an end today. I still scored 109 points today but that isn't enough. Had I played Joe Flacco over Matt Ryan and DeSean Jackson over Emmanuel Sanders, I think I would have enough points to win.
But this isn't a game of what ifs. I didn't play the right lineup. Now I no longer have the best record in the league. Oh well. Win next week and I'll feel better about myself.
Happy Columbus Day! Our annual celebration of the first-ever documented incident of man refusing to ask for directions. Be safe and have fun and enjoy a Tom Petty video I shot on Saturday night.